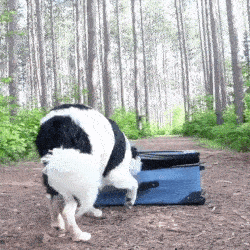 Rainhouse Spotlight – Neil Rynsoever

This month's spotlight – Neil Rynsoever is a Red Seal Machinist at Rainhouse. When he's not at work you can find Neil on the lake paddle boarding, dirt biking, or travelling to Italy.
What do you do at Rainhouse?
I am a Red seal Machinist. I can create parts manually or using a CNC machine. At Rainhouse I am able to program, set-up, and operate all of our machines. The newest machine I am just starting to learn is our the Zeiss Duramax Coordinate-Measuring Machine (CMM).
What do you enjoy most about working at Rainhouse?
I enjoy the company of my fellow colleagues, the friendly atmosphere, working around the dogs, and learning new things. I find everyday is a little different.
What is your favorite aspect of machine manufacturing?
Once I have machined a challenging part, I like seeing the part completed within in specifications, with great surface finishes.
How was the process / journey to become a red seal machinist?
It was fun and challenging. During my second year I did night school one night a week while working full time, made for long days. In my third year I did every Friday. It was nice to be able to focus on the schooling more.
What is something most people do not know about you?
I have a degree in golf course management.
What is the ONE THING you cannot live without?
I could not live without coffee.
<< Rainhouse Team