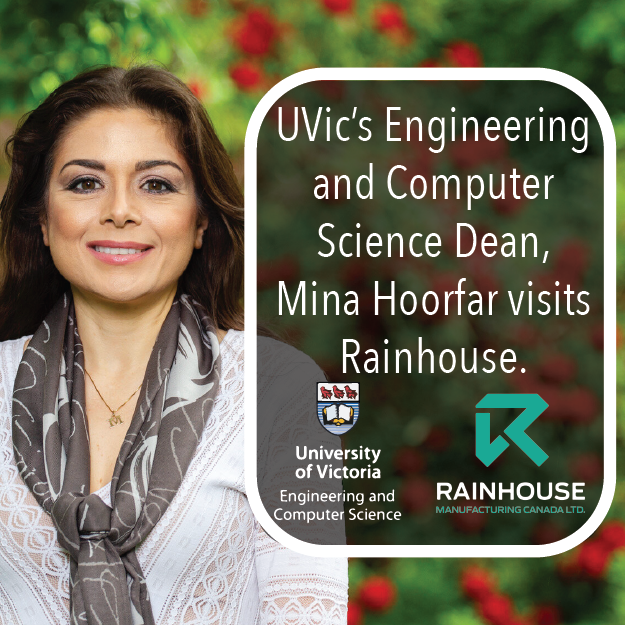 Mina Hoorfar visits Rainhouse

Last Friday, we had the pleasure of meeting the University of Victoria's new Engineering and Computer Science Dean, Mina Hoorfar. Meeting her was a refreshing experience; she is very personable, curious, and outgoing. Mina's visit felt like an old friend coming back to see what has changed.

Mina began her new role on July 1st. She's been meeting contributors and making strategic alliances to support UVIC's development from day one. Mina is keen to strengthen and have closer relationships with local companies, especially companies within the marine industry. She toured Rainhouse's facility to know more about what we do, our capabilities, plans to grow, and our fabulous team. We showed Mina all our areas of expertise and further explained the breadths of our processes. She also met and interacted with our engineering team and UVIC's alumni: Anthony Maki, Andrew Hagen, Carling Stokes, Ray Brougham, and our newest team member, Matt MacLeod.

She had many insightful questions during her visit that showed her excitement and readiness for her new role. Mina is determined to create more opportunities for students and make engineering more fun. Thus, we are eager to continue a close working relationship with UVIC and Mina leading the engineering and computer science department.

In the spirit of lean processes, we combined our meeting with Mina and potluck lunch. Sharing lunch was an excellent opportunity for the Rainhouse team to get together and get to know Mina Hoorfar in a relaxed and welcoming atmosphere. Due to covid-19 restrictions, this was our first team gathering in a long time. Everyone was happy to share a variety of foods, enjoy the sun and the great company.
Mina's Career
Mina has an exceptional trajectory as an engineer and educator. She has been recognized as a top researcher and professor in advanced thermofluidics. Such recognition enabled her to collaborate and work at research labs from prestigious universities worldwide such as Harvard, MIT, Stanford, and UC Berkeley. Through partnering with industry leaders Mina has created high-impact research and real-life solutions. Mina Hoorfar's career has also been recognized with several awards, including:
CSME Emerging Technologies Medal (2021)
BC's Most Influential Women from BCBusiness (2018)
President's Teaching Award of Excellence from Engineers and Geoscientists BC (2017)
UBC's Researcher of the Year (2016).
Mina's tour was inspiring on so many levels because it was clear that she is passionate about education and engineering and a humane leader that genuinely embraces growth, change, and constant improvement.
We are thrilled she took some time to visit Rainhouse and get to know our team, and we look forward to partnering with her and the Uvic team on future projects.